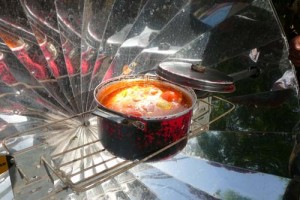 At the moment there are approximately 130 solar cookers in Tamala and Wa. They were bought in Germany and then assembled in Ghana.
Grace Akawe in Tamale and Jacinta Ziems in Wa are responsilbe for checking on progress. Up until 2004, this project was carried out in cooperation with the parish of Werfen.
The Austrian Development Association has subsidized 25% of the costs. The most common fire places in villages are three-stone boilers, fueled with fire wood. In the cities a charcoal oven is the most common heating system.
With our solar cookers we want to help to save on  fuel and therefore reduce enviromental pollution. During the rainy season and Hamatan (sandstorm from the Sahara), the use of the solar cookers is limited. It is also our goal, to find and implement cookers with minial fuel consumption during this time of the year.
In 2009 ten additional solar cookers were put into Operation.
Brother Travor, manager of the solar cooker workshop for assembly and
Grace Akawe, field officer for the solar cookers in Tamale.